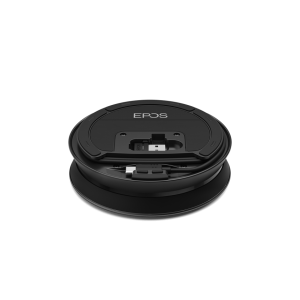 The EPOS Expand 40T is a portable wireless speakerphone for personal conferencing or up to 8 Pax meeting room.
Join meetings instantly and experience crystal clear audio on both ends of the call.A choice of Bluetooth or USB-C connectivity gives freedom and flexible connection options. Three beamforming microphones and an ultra-low distortion speaker with clear voice reproduction allow a natural, conversational flow even in challenging environments. Certified for Microsoft Teams.
Instant conferencing. Anywhere. With lightweight design, choice of Bluetooth or USB-C plug n play and multi-point connectivity with up to three devices and one touch access to Voice Assistant.
Exceptional audio performance. With EPOS Voice Clarity, ultra-low distortion speaker and echo and noise-cancelling microphones supported by highly advanced DSP algorithms.
Natural conversation experience. With industry-leading duplex performance that allows simultaneous speak.
Crafted for perfection. With premium materials, convenient cable winding and safe dongle storage.
Box Content
EXPAND 40T
Bluetooth speakerphone with USB-C cable,
BTD 800 USB dongle, USB-C to USB-A adapter,
Carry pouch, safety guide, quick guide