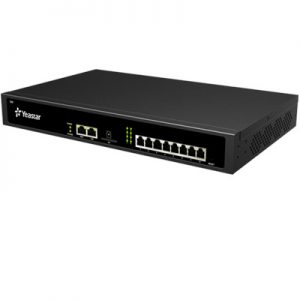 Product Description
S50 is a compact and full-featured IP-PBX that comes in a 19 1U rack-mountable chassis. The advanced module-based S50 is capable of supporting ISDN BRI, PSTN, and GSM connectivity, providing VoIP communications for up to 50 users.With Yeastar S-Series, all the telephony interfaces are modular and customizable, S50 support 4 onboard module slots to custom FXS, FXO, ISDN BRI, GSM/3G/4G.
50 Users
25 Concurrent Calls
Flexible Modular Design: Up to 8 FXS/FXO/BRI Ports and upto 4 GSM/3G/4G Channel
Security: Protected from Internet hackers and viruses with the built-in firewall, TLS, SRTP, and more.
Powered by Freescale ARM A9 industrial grade quad-core CPU processors
Manage PBX on the intuitive web GUI
Automatically provision phones from Yealink, Snorm and more
Linkus Unified Communications App:unified communications app for Windows desktop, Mac desktop, iPhone and Android phones. Designed for Yeastar Cloud PBX and S-Series VoIP PBX, it transforms your desktop and mobile phone into a fully-featured office extension.Outlook Contacts and Google Contacts integrated and more CRM to support.
Additional Features:
App Center
AutoCLIP
Auto Provision IP Phones
Automated Attendant (IVR)
Blacklist/Whitelist
Billing App
Call Back
Call Detail Records (CDR)
Call Monitor
Call Recording
Call Routing
Call Transfer
Conference
Distinctive Ringtone
Emergency Number
Event Center
Email to SMS/SMS to Email
Fax to Email
Find Me/Follow Me
Hot Standby
Import/Export Extensions
LDAP Server APP
Mobility Extension
Music on Hold
Queue
Ring Group
Remote Management
SIP Forking
SLA
Speed Dial
Time Condition
User Portal
User Privileges
Video Calls
Voicemail
Voicemail to Email
VPN Server App
Download PDF
All Products